Pluralsight is one of the best premium websites to learn about programming. It has a wide range of courses for you to start as a beginner and become a master in programming. If you want to access premium courses on PluralSight for free for a month, then follow along this tutorial.
Pluralsight is a subscription based website where you can access all the courses available during your subscription. The subscription fee is 19$/month if you pay monthly or 159$ if you pay annual fee at once. Pluralsight also offers a 10 days free trial but you'll have to enter payment information to access the trial.
Read: Best free courses to learn and master web development
It comes up with various offers for users from time to time. Last April there was a free subscription for a month for everyone. Also the method mentioned in this tutorial is legit and you can get access to premium courses on Pluralsight for a month for free with no payment info required.
So let's get started.
To avail this offer you must have a visual studio code essentials subscription. But wait you can get that for free as well with no credit card or payment details required.
So I will help you set up a free visual studio account first.
First head over to Visual Studio and Sign up for a new account(if you don't have a Microsoft account already). If you already have a Microsoft account, log in with the details. Alternatively you can login with your GitHub account.
After logging in, it will load the Benefits section of Visual Studio Subscriptions. It may take some minutes to get things ready.
Then you can view all the benefits of your subscription below. Scroll down until you find PluralSight on the list.
In addition to a month of free subscription to pluralsight courses you can get access to LinkedIn Learning (previously Lynda) for 3 months for free. Also you can get a free 1 year subscription to CODE magazine with this visual studio account. You can view all benefits on the screenshot below.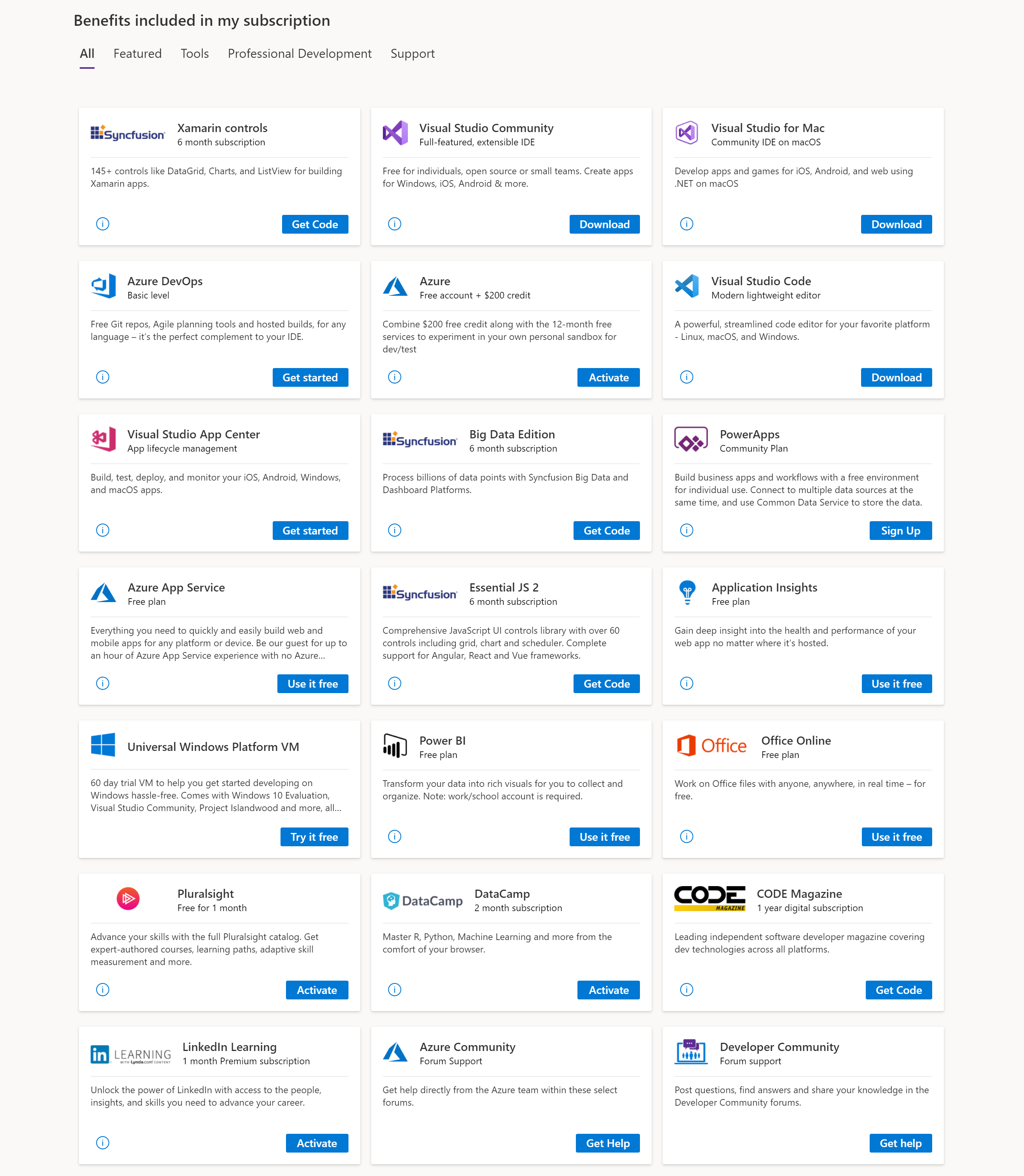 Click on the get code button and it will open a form on the pluralsight website. You can redeem the coupon by entering your details on the form. Make sure to enter the email as the same email in your Pluralsight account.
You'll get access to Pluralsight premium courses for a month for free.
Pluralsight has desktop player and mobile apps so that you can download videos and watch offline and learn on the go.
This might be the best time for many beginners to use this offer as most people are trapped inside their homes. So you can use this method to grab the free subscription to pluralsight for a month.
Also Read:
If this was helpful, feel free to share this with your friends.
Happy programming!