There are many online platforms that can help you learn any skills. You can find platforms to learn anything online for as low as $10 per month or course.
In one of the previous blog posts, I shared how you can get access to premium PluralSight courses for free for 1 month. In this post, I will share different ways to get LinkedIn learning for free.
LinkedIn Learning is a video based online learning platform where you can find courses on different scopes like Technology, designing, business, digital marketing, creativity and many more. It was previously known as Lynda which was acquired by LinkedIn and later rebranded as LinkedIn Learning.
If you are seeking for free options to learn skills online, this post will guide you various methods on how you can access LinkedIn Learning premium courses for free.
The actual subscription cost for LinkedIn Learning is $29.99/month. I have discussed three different methods you can use to get linkedin learning for completely free and some of these don't even require you to enter the payment details.
Also the certification gets added to your certification section of your LinkedIn profile after the completion of course. So you get free courses with free certification with LinkedIn Learning.
So let's get started.
1. Free Trial
I know most of the people who are already using LinkedIn are aware of this. If you are not using LinkedIn then I would recommend start using it. You can get access to job recruiters, get connected to like minded people and even get to know better about the professional world.
To get 1 month of free trial of LinkedIn Learning, head over to LinkedIn Learning here and click on the Start my Free Month button. Next click on the Try For free button.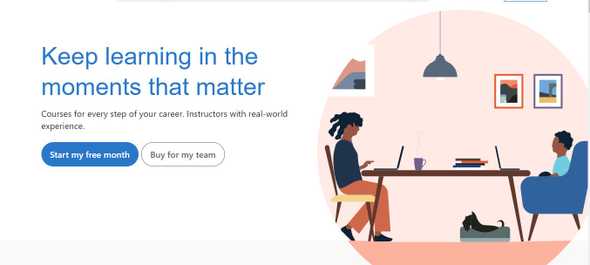 Then you'll be redirected to a login page. You can login with your LinkedIn credentials. If you don't have one, create a free account.
Next you'll have to enter payment details just for the verification purpose. You can cancel the payment after 1 month of free trial has ended.
After you have completed these steps you'll get one month of free access to LinkedIn learning.
2. Visual Studio Code Essentials Subscription
This is the exact method I used to activate one month of free Pluralsight subscription. You can check out the complete post here.
You can get Visual Studio Code Essentials Subscriptions for free by following the steps mentioned in the article linked above.
On the subscription benefits among other benefits you can locate, LinkedIn learning for 1 month free. It will get you access to linkedin learning courses for free for one month.
You can activate this offer for free without having to enter any payment details.
3. Become a MicroSoft Learn Student Ambassador
Microsoft Learn Student Ambassador (previously Microsoft Student Partner Program) is basically an ambassador program by microsoft which can help you build your professional and personal skills. You have to be a student to apply for this program and need to have immense love for technology.
If you become a Student Ambassador, you can get access to LinkedIn Learning for completely free. Check out this blog post on the best ambassador programs for CS Students.
This method is particularly for college students and no every applicant can get accepted to this program but if you have got accepted to MLSA program, you can use this offer.
You can use LinkedIn Learning for free as long as you are a MLSA.
Final Thoughts
If you are searching for the best resources to learn skills online for free, I hope these methods will help you access the best premium courses on LinkedIn Learning.
Also Github Student Developer Pack provides best tools and resources for developers for free if you are a student. If you are not already using it, then I would recommend checking this article on how to get started.
Also Read:
What is your experience with LinkedIn learning? Don't forget to share them in the comments below.
Happy learning!